According to the United Nations, the fashion industry contributes between 8% and 10% of global carbon emissions. Managing the environmental impacts across the entire value chain has become a key focus of our work. For this reason, SHEIN has committed to reducing absolute GHG emissions across its entire value chain by 25% by 2030. Embedding science-based targets into our decarbonization efforts is a way to set impactful and realistic goals that align with a global climate agenda and hold ourselves accountable for sustainability commitments.
Measuring our impact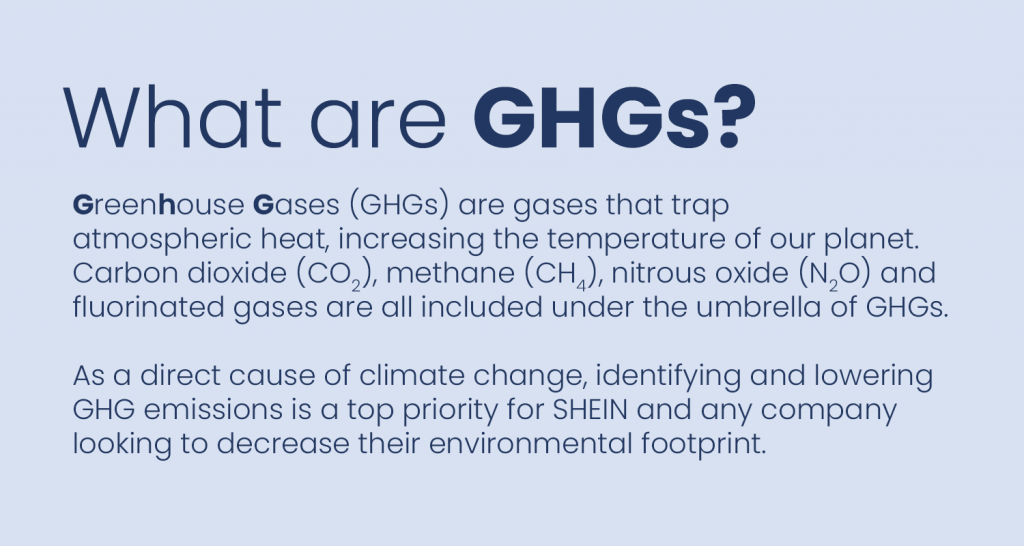 Setting 2030 targets requires reliable data, so we have worked with industry expert Intertek to quantify and monitor our environmental impacts – not only across our own operations, but along our entire value chain. This covers all stages from sourcing, production and processing of materials, product assembly, own operations, logistics, to the disposal of our products at their end of life.
This collaboration has been instrumental in helping us to understand our impact caused by GHG emissions, and in setting appropriate GHG emission reduction targets. It allows us to track and measure our progress towards our targets and to conduct scenario analyses that feed into making fact-based decisions.
Results show that in 2021, our business produced approximately 6.3 million tonnes of CO2 a year and that our impact on the environment is distributed unequally across the value chain, with the most significant impacts generated in the supply chain (more than 99%), particularly in sourcing materials, manufacturing, and product distribution.
Greenhouse gas emissions are broken down into three categories, called scopes.
Scope 1: Emissions generated from SHEIN facilities
Scope 2: Emissions from energy we purchase to power SHEIN facilities
Scope 3: Emissions generated from the entire supply chain, such as the creation of the products and services we sell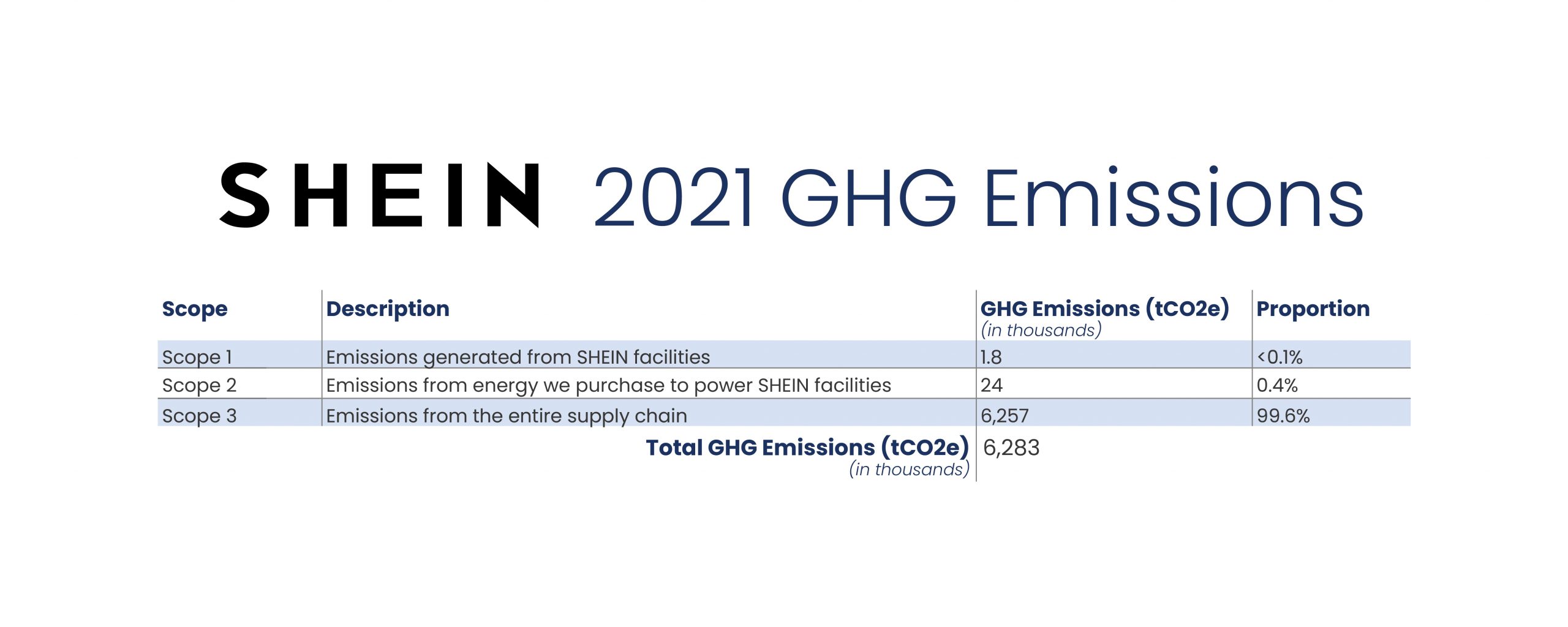 Taking action
To guide our work, we have identified areas of work that minimize our impact. Here is what SHEIN is doing about it.
To reduce our Scope 1 emissions, we will increase investments in energy-saving efforts across our business and through improved measurement techniques.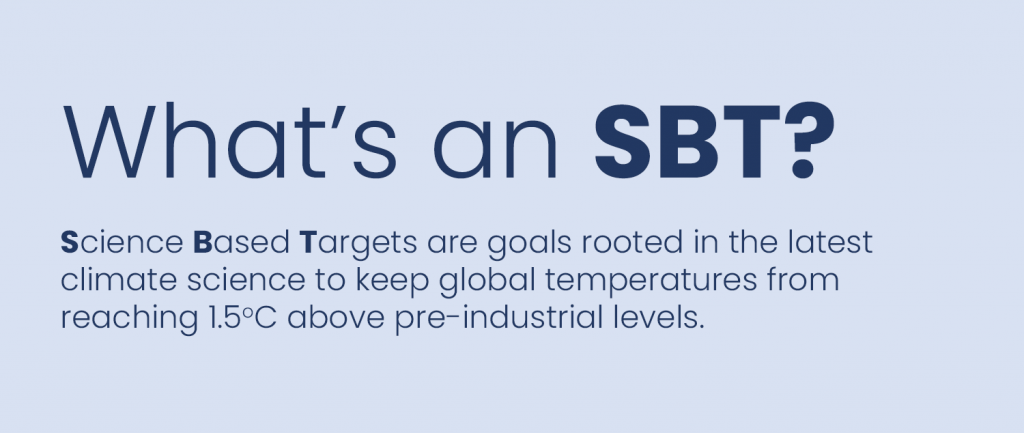 To reduce Scope 2 emissions, we will purchase Renewable Energy Certificates from the utilities where we operate warehouses, mostly in southern China.
To reduce our Scope 3 emissions, we'll work closely with our supply chain and expert partners to collaborate on carbon reduction plans and to transition to renewable energy sources.
Increasing Suppliers' Energy Efficiency
Through a partnership with Aii, SHEIN's $7.6 million contribution will go directly into two existing, proven Aii programs: Carbon Leadership, focused on carbon benchmarking, assessment, and goal-setting, and Clean by Design, which helps textile production facilities reduce energy, water, and chemistry use, and also, improve cost savings. Aii will design a strategy focused on implementing energy efficiency projects at over 500 of SHEIN's partner facilities, generating an estimated 1.25 million metric ton reduction in SHEIN's greenhouse gas emissions per year – an approximate 10% reduction per facility.
Support Transition to Renewables
SHEIN has also announced a partnership with Brookfield Renewable Partners (Brookfield Renewable), Brookfield's leading global renewable power and decarbonization business, to address GHG emissions in its supply chain through the transition to powering the operations of SHEIN's supply chain partners with renewable energy. This program will implement emissions reduction projects to improve the environmental performance of SHEIN's supply chain, accelerate impact and drive new efficiencies for the industry.
Transformative approach to manufacturing and distribution
SHEIN's carbon reduction efforts in Scope 3 also will be combined with transformative plans in both product manufacturing to accelerate the incorporation of recycled materials and supply chain transformation, focusing heavily on nearshoring and onshoring, which will dramatically reduce SHEIN's reliance on airfreight.
The company has also set a target to transition from virgin to recycled polyester to 31% by 2030. We are committed to transforming our business and changing the way fashion is produced and consumed and we're taking a holistic look at how we can better reduce our impact at every stage of our value chain, including sourcing.