LOS ANGELES, May 10, 2023 – SHEIN, a global e-retailer of fashion, beauty and lifestyle products, and Queen of Raw, a global circular economy technology company whose flagship software, Materia MX, specializes in solving supply chain's excess inventory issues for the world's Fortune 500, today announced a partnership to support SHEIN's ambition of becoming a leading rescuer of high-quality deadstock materials. Through repurposing other brands' excess inventory, the company will avoid consuming new textile resources, creating a blueprint for alternative business models that leverage circularity to mitigate textile waste and reduce the use of new raw materials.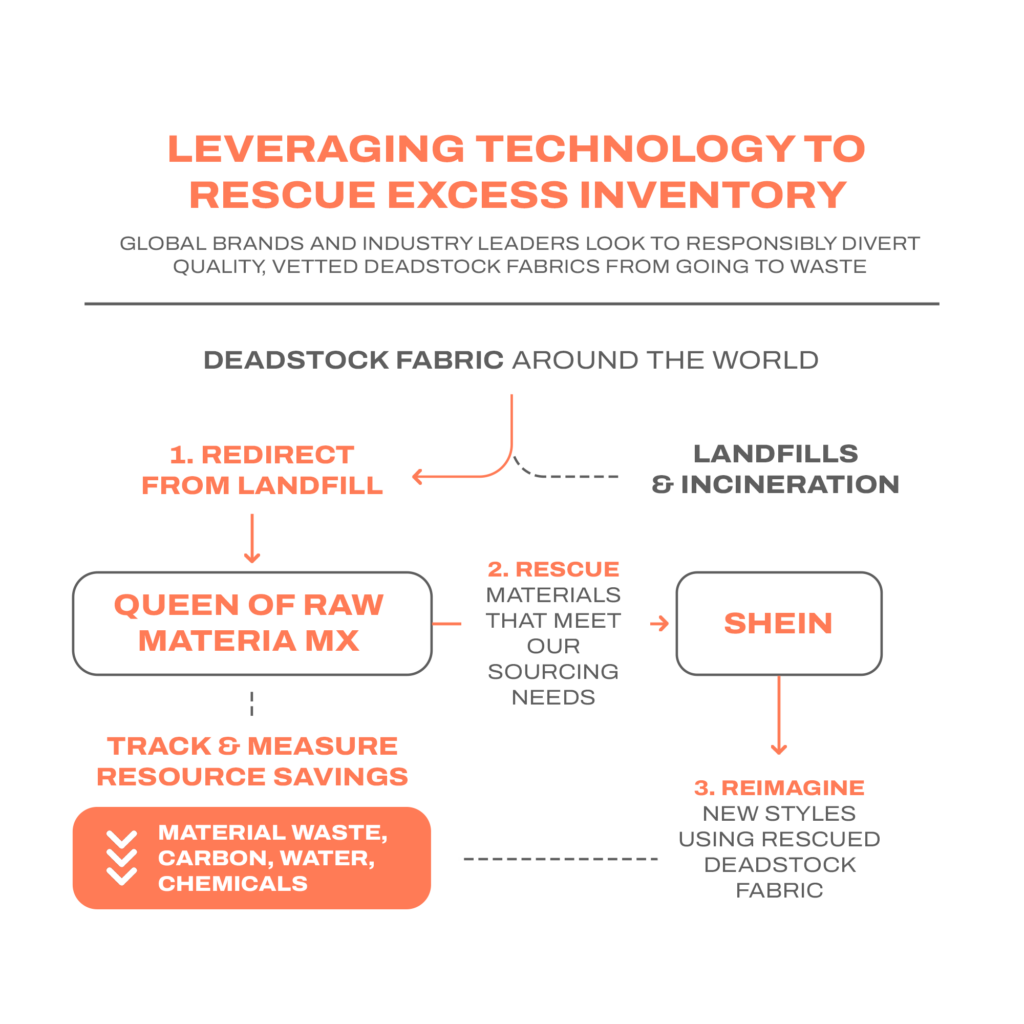 To reach this goal, SHEIN is utilizing Queen of Raw's proprietary software, Materia MX, to source existing materials from brands and retailers looking to responsibly clear out their excess fabric inventory rather than have it go to waste in landfills. According to Queen of Raw's impact measuring algorithms, developed with the support of Solve Innovation Future at Massachusetts Institute of Technology (MIT) Solve, diverting 1 million yards of fabrics from excess inventory would set SHEIN on the trajectory to become one of the global leaders in repurposing deadstock materials, helping conserve water and preventing the creation of carbon dioxide equivalents that would have been generated through conventional production methods.
A UNIQUE PARTNERSHIP
Innovation has always been a driver for SHEIN. We've built a reputation for disrupting the world of retail through agile systems development, effective use of data analytics and our ability to rapidly test-and-scale new business solutions. SHEIN's small batch, on-demand business model is a perfect fit for creatively clearing out leftover fabric inventory at a variety of scales – from a few hundred meters to potentially tens of thousands of meters.
This uniquely designed collaboration focuses on accelerating the circular economy and transforming the textile industry with real results based on Queen of Raw's track record of case studies and with impact measuring backed by science.
"We look forward to supporting one of the world's leading retailers on its journey to transform its supply chain. SHEIN's influence in the fashion industry aligns with our position as the global leader in measuring and reporting environmental impacts for excess inventory and waste streams across industries," said Stephanie Benedetto, CEO of Queen of Raw. "Our technology empowers SHEIN to incorporate local deadstock textiles from other brands into its on-demand business model to optimize future inventory purchases. As a result, climate and water impacts are reduced while enhancing transparency."
Automating SHEIN's supply chain workflow through the software enables the verification of unused materials that meet both SHEIN's sourcing requirements and Materia MX's deadstock standard. These materials are then made available to SHEIN designers to incorporate into products sold on the SHEIN platform. The Materia MX platform also allows SHEIN to track and report the data in line with science-based standards.
MAKING A CIRCULAR FUTURE A REALITY
In order to achieve a fully circular textile economy by 2050, in line with our World Circular Textile Day commitment, we need to actively participate in building a stronger, more efficient circular economy. Cutting emissions in the fashion industry means not only minimizing waste, but eliminating the concept of waste altogether through the use of deadstock materials. Our ambition is to continue measuring and mitigating our own textile waste while collaborating with other industry leaders to propel the circular textile economy forward.
Caitrin Watson, director of sustainability at SHEIN, said, "Partnering with Queen of Raw supports our advancement to a more circular system, starting with the design of our products. Since SHEIN's business model is to create products on demand, we don't accumulate excess fabric liability, which is one of the biggest financial and sustainability challenges for the fashion industry. We are poised to purchase high-quality surplus materials, helping us to reduce the environmental impact of our products and become a circular solution for other businesses."
The partnership with Queen of Raw contributes to SHEIN's newly established sustainability roadmap, evoluSHEIN. This overarching framework, comprised of three key pillars – equitable empowerment, collective resilience, and waste-less innovation – builds on and further guides the company on its sustainability journey by addressing the most critical social and environmental challenges facing the fashion industry today.