Action is driven by desire. We can all envision a desirable future that motivates us to evolve, innovate, create and make progress. SHEIN was founded on the vision of making the beauty of fashion accessible to all – regardless of culture, gender, age, body type, ability, or economic status – through the application of world-class operational capabilities that would help eliminate inefficiencies across the value chain. As we look to the future, it is time to accelerate the evolution toward a desirable and sustainable future and ensure that everyone will have access to it.
We've developed a roadmap with actions and goals to tackle key material issues that currently stand between making that vision a reality. Our evoluSHEIN roadmap guides our work to bring about change internally and externally across our industry; it is aligned with international social and environmental frameworks.
Our global scope and industry expertise give us a unique responsibility to champion tangible, positive solutions to show the global industry what's possible at scale. So far, we're accelerating circularity, tackling textile waste, strengthening our on-demand production model and launching end-of-life garment recycling solutions.
At SHEIN, we're optimistic for the future of our company and industry to make more sustainable lifestyles accessible to all. Using our disruptive mindset to tackle social and environmental challenges, we can achieve our targets by 2025.
Our evoluSHEIN Roadmap
To guide our sustainability efforts, SHEIN has developed the evoluSHEIN Roadmap, a comprehensive strategy for addressing social and environmental challenges and making a positive impact as the company evolves into the future. The roadmap is comprised of nine key priorities organized under three strategic pillars – People, Planet and Process – each of which focuses on the critical challenges facing the company and the fashion industry at large.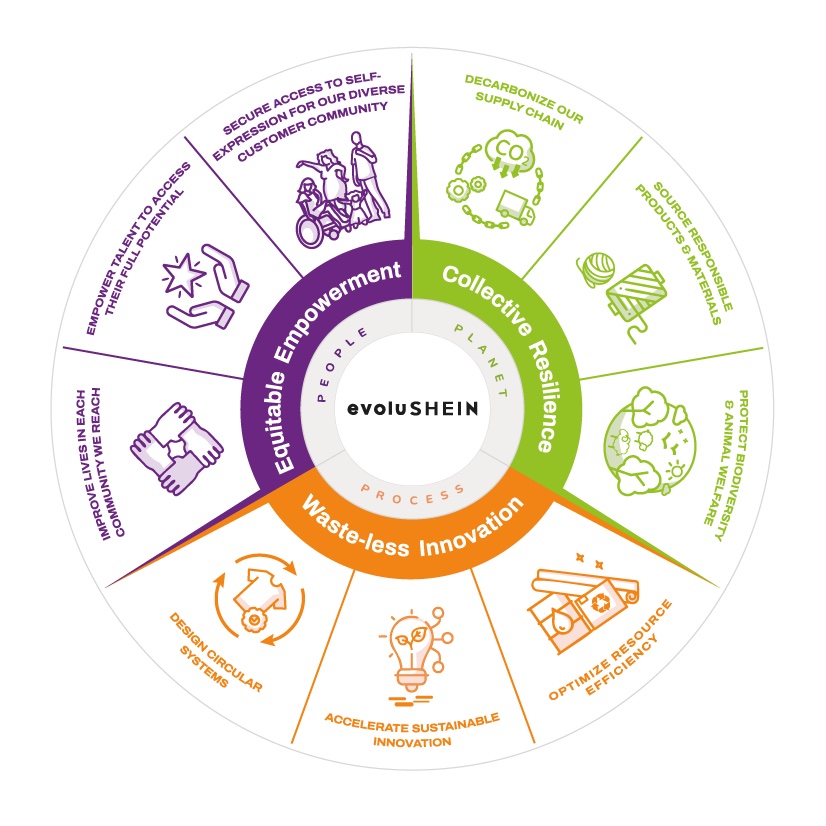 People: Equitable Empowerment
We're dedicated to creating opportunities for all stakeholders to access their full potential, anchored in integrity, inclusivity and respect for all. We've identified three key priorities to drive impact:
Securing Access to Self-Expression for Our Diverse Community
Ensure that customers everywhere around the world have safe access to affordable means of self-expression regardless of culture, gender, age, body type, ability or economic status
Empowering Talent to Reach Their Full Potential
Offer opportunities for skill development and career growth for our employees and brand partners around the world, respecting their diversity of culture, abilities and lifestyles
Improving Lives in Each Community We Reach
Secure working & living conditions across our global value chain through economic opportunities, trainings, community programs, volunteerism and philanthropic giving
At the heart of SHEIN's business are the people we serve, from customers to employees, brand partners, suppliers and members of our global community. Our company was founded on the belief of empowerment and we are committed to uplifting the people in our ecosystem.
Earlier this year, we celebrated the 2nd anniversary of our SHEIN X Designer Incubator Program. Since launching in January 2021, SHEIN has empowered nearly 3,000 aspiring designers and artists to launch their own fashion collections on our platform. SHEIN funds the entire production and logistics process, allowing designers to produce and launch their own collections without the stressful financial risk.
We strive to play a positive role in the communities where we work, live and source. The SHEIN Responsible Sourcing (SRS) Program establishes clear definitions and criteria for violations of SHEIN's Code of Conduct and is enforced by unannounced third-party audits to ensure healthy, safe working environments for our manufacturing suppliers' employees. Earlier this year, we pledged an additional US$55mil to our Supplier Community Empowerment Program, bringing our total investment to US$70mil to advance our supplier partners and their communities at different stages of their development.
Planet: Collective Resilience
SHEIN has long been committed to promoting sustainable environmental practices, which focused on driving impact in three key priorities:
Decarbonizing Our Supply Chain
Set science-based targets to support an ambitious decarbonization roadmap to fight climate change within our operations, and in collaboration with our suppliers and partners
Sourcing Responsible Products and Materials
Progressively use materials with lower impact on the environment and preferred performance properties that meet high product quality and safety standards
Protecting Biodiversity and Animal Welfare
Do our part to combat environmental degradation and promote animal welfare in partnership with local communities and NGOs
As a global leader in our industry, we recognize the pressing need for all fashion brands to take responsibility for their environmental impact and we're committed to decarbonizing our supply chain. We've pledged to reduce greenhouse gas emissions across our entire value chain by 25% by 2030 and become carbon-neutral in scope 2 by the same year. In 2022, we forged new partnerships with Apparel Impact Institute and Brookfield Renewable to develop solutions to lessen the environmental footprint of not only our own supplier factories, but the entire fashion industry.
Part of our decarbonization strategy is to use lower-impact materials. Our evoluSHEIN by Design initiative is aimed at accelerating the use of preferred materials, such as recycled polyester or repurposing deadstock fabric, and scaling responsible manufacturing processes. Through this program, SHEIN is providing a launchpad for scaling sustainable product innovation and education for our designers. Our goal is to source 50% of SHEIN branded products through the evoluSHEIN initiative by 2030.
Building a responsible supply chain begins with the materials we source to create SHEIN-branded products. In 2022, we became signatories to CanopyStyle and Pack4Good pledges. SHEIN has committed to ensure that 100% of our viscose fibers are coming from deforestation-safe suppliers by 2025. We met our goal of tracing 45% of our viscose fabrics back to Canopy-approved sources by the end of 2022 and aim to reach 60% by the end of 2023.
Process: Waste-less Innovation
Innovation and waste reduction are at the core of how we operate. We're built on a small-batch, on-demand production model that creates only as much as the market demands instead of projecting demand months in advance. To empower our commitment to a more circular future, we've identified three key priorities for driving impact:
Optimizing Resource Efficiency
Only use what is needed, not more. Continuously optimize the efficiency of processes along the value chain to conserve resources – water, energy, and raw materials – minimizing consumption and waste
Designing Circular Systems
Educate and engage our customers in the process to make better and longer use of our products, while creating products and services that fit into a circular future without waste
Accelerating Sustainable Innovation
Use our disruptive tech mindset to drive positive change in fashion and beyond by rapidly testing and scaling sustainable innovations
SHEIN's business model has proven to dramatically reduce waste, and the company continues to leverage its current success to achieve more ambitious and measurable goals. Using on-demand production methods has consistently helped us achieve average unsold inventory rates in the low single digits.
We acknowledge our role as a fashion leader to champion circular solutions, and also understand that each of us can play a role in minimizing waste. We aim to engage the majority of our customers in circularity by 2025 through platforms and programs like SHEIN Exchange, our peer-to-peer resale marketplace launched in the US in 2022.
We want to build upon our low-waste foundations by standing as a model in the industry for managing waste outside of SHEIN's production processes. We have set an ambition of becoming a global leader in rescuing deadstock materials through a new partnership with Queen of Raw, a global circular economy technology company whose flagship software, Materia MX, specializes in solving supply chain's excess inventory issues for the world's Fortune 500.
Furthermore, we've pledged to have a fully circular textile supply chain by 2050, in alignment with our World Circular Textile Day commitment. By prioritizing waste reduction and circularity, SHEIN is leading the charge towards a more sustainable and responsible fashion industry.
Read our Sustainability and Social Impact Report 2022 to learn more.